Ladies Night at Flowrider
Event Navigation
2261 Keisel Ave.
Ogden, UT
Wednesday, June 28, 2017, 6 – 9pm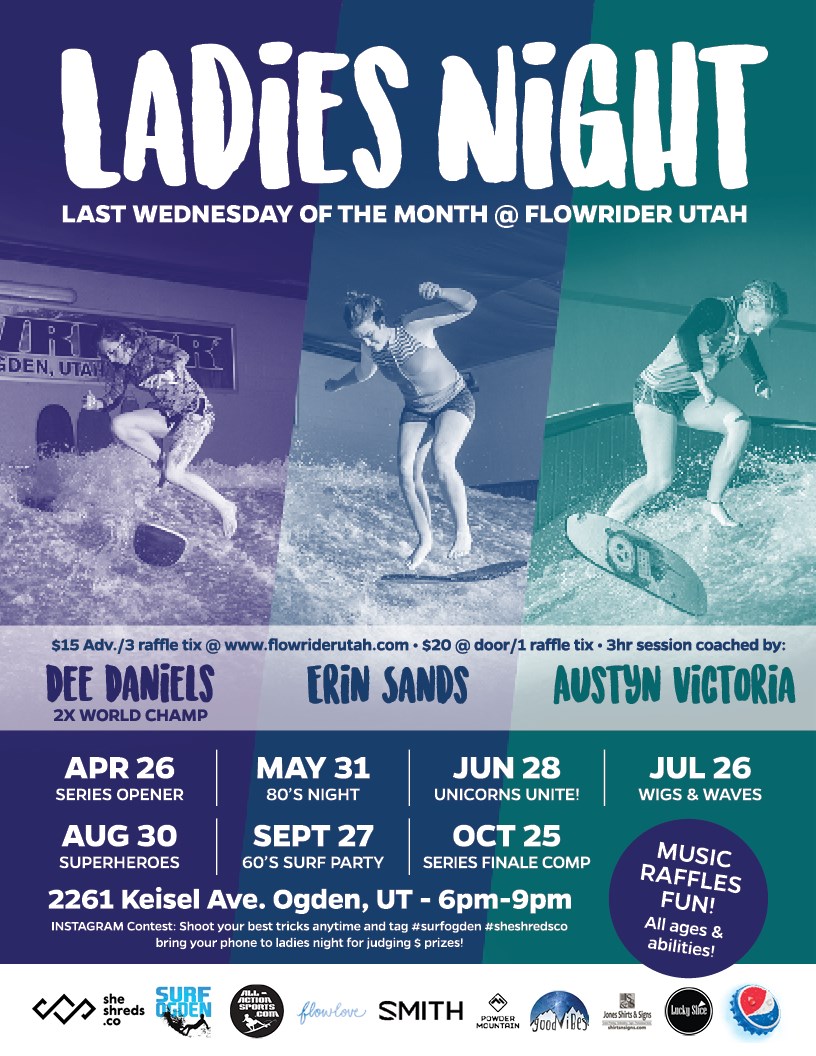 We're baaaaack!
Progression, Passion & Just Plain Fun!
Join us the LAST WEDNESDAY of each month April to October 2017 for Ladies Night at Flowrider Ogden from 6pm to 9pm. We have super fun themes planned for each month! ALL ages and abilities!
$15 Advance purchase – $20 at the door. Ladies Only Wave Section for three hours!
Coaching from Female World Champion Dee Daniels along with other pro women's division riders, Austyn Victoria and Erin Sands. All claiming Flowrider Ogden/Surf Ogden their home wave!
Advance tickets gets you 3 entries into our EPIC monthly raffle with goodies from all of our sponsors. At the door gets you 1 entry. Must be present to win.
Instagram Monthly Contest: Film your best riding on the flowrider and post to Instagram. Bring your phone to share with our coaches and tag #surfogden #sheshredsco. This gets you another raffle ticket and best clip each month gets a prize!
Progression Board: Putting it in writing each month! We will have a whiteboard to post your goals on for the sessions along with ones set by the coaches for all to achieve prizing!
Finale in October! We'll wrap up the season with a jam session style comp for sick prizes & bragging rights!
THEME NIGHT CALENDAR:
April 26th: Inflatable Fun! Surf this!
In addition to serious progression, we are gonna have some fun on floaty things on the wave! Giant rubber ducks, donuts and more!
May 31st: 80's Night – Like OMG!
Real progression, but real fun too! Come dressed to impressed…80's style!
June 28th: Unicorns Unite!
Yah, that's right, surfing unicorns! Making magic happen on the wave!
July 26th: Wigs & Waves!
Flip it ladies! We wanna see some crazy wigs, plenty of hair flipping and lots of attitude!
August 30th: Superheros of Surf!
Saving the world one pop shuv it at a time. Show us your inner warriors!
September 27th: 60's Surf Party
Gidget's gonna drop some hammers come Ladies Night!
October 25th: Series Finale Competition!
And it's Halloween…so, go there!
Recreation Categories: Surfing (indoor)
Audience: Children, Teens, Adults
Type of Event: * DOWNTOWN, Activities, Competition, Entertainment
Cost: $15 advance www.flowriderutah.com, $20 at the door
Contact: (801) 528-5352
More info: sheshreds.co…