America First Credit Union presents Ogden Musical Theatre's production of Joseph and the Amazing Technicolor Dreamcoat
Event Navigation
Ogden Eccles Conference Center
2415 Washington Blvd
Ogden, UT 84401
Saturday, August 19, 2017, 7:30 – 9:30pm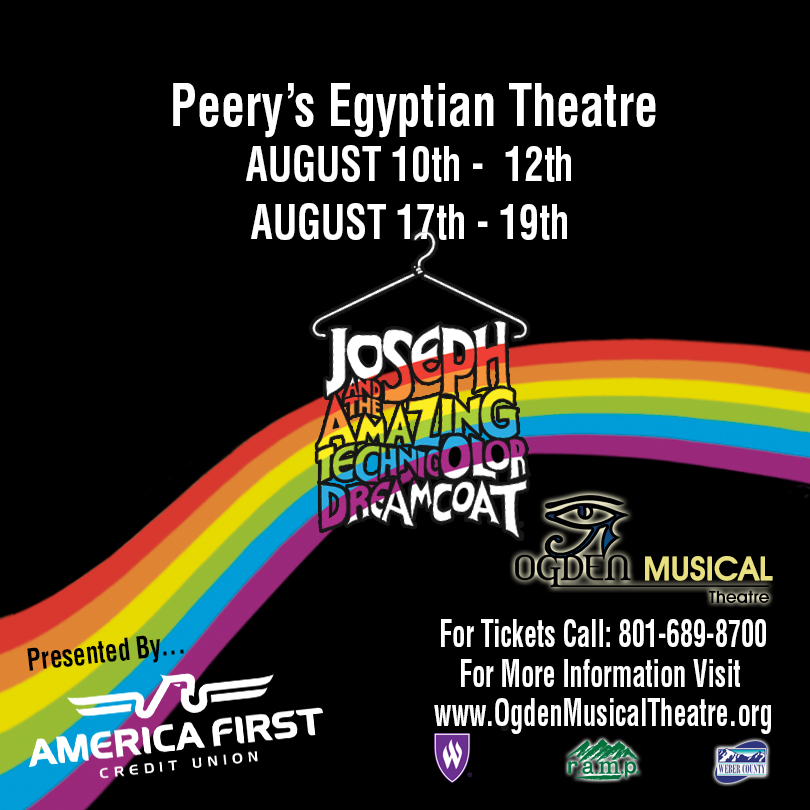 The Biblical saga of Joseph and his coat of many colors comes to vibrant life in this delightful musical parable! Set to an engaging cornucopia of musical styles, from country-western and calypso to bubble-gum pop and rock 'n' roll, this Old Testament tale emerges both timely and timeless.
Patriarch Jacob lived happily with his dozen sons, but his favoritism for bright Joseph, symbolized by the gift of a spectacular multi-colored coat, makes his brothers so jealous they end up selling him as a slave and staging his death. He rises in the service of wealthy Potifar, though his adulterous wife is falsely accused and incarcerated. His gift of dream-telling however wins him Pharoah's favor, in charge of planning for the 7 years of penury after 7 good ones he prophesied. When his brothers come to beg for food, it's time for reckoning and nobility.
Directed by Maurie Tarbox; Choeography by Liz Smith; Music Direction by Derek Myler; Created by Andrew Lloyd Webber & Tim Rice
Tickets are $15 or $20 based on proximity to the stage. Order your tickets online 24/7 through Smithstix, by phone at 801-689-8700 or in person at the Box Office M-F 10am to 6pm
Note: There are multiple performances of this show. If you purchase you tickets online, please verify you have the correct date & time before you complete your purchase.
Arts & Culture Categories: * PERFORMING ARTS, Theatre
Audience: Children, Teens, Adults, Athletes, Businesses, Members
Type of Event: * DOWNTOWN, Entertainment, Show
Cost: $15 or $20 based on proximity to the stage
Contact: 801-689-8700
More info: www.egyptiantheaterogden.com…